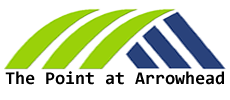 Resident Reviews
|Recommended: YesThe Point at Arrowhead — Living here has been good . As with most apartments there are areas in the community that could be improved. Affordable housing comes with some issues.. but overall nice location, efficient maintenance and welcoming staff.
|Recommended: YesGreat place to live — Management, maintenance are all amazing...the newly upgraded apartment homes are beautiful...I have been here for awhile and I have seen great improvements in the team running The Point at Arrowhead now...keep up the great work everyone...
|Recommended: YesIt takes a Committed person to handle the Load Thank You Pamela — Good Morning, Just a few lines to say something, That needs to be said , and That needs to be put out there . I know it takes a Committed person to haul the load of a complex. Well, I would like to say that Pamela Moder is that person. She has taken the bull by the horns and turned this complex all to the better Also, along with her staff. She runs A tight ship We all know there is no I in team. I really think these guys have a Good Communication going on. Communication is the Key . Just want to say Thank You Pamela for a job well done . You deserve this compliment. Thanks again.
|Recommended: YesGreat — Very nice neighborhood, lovely location great apartments
|Recommended: YesWhat is the complete question — No where is perfect, so making where you are the place you want to be, is up to you and if you don't get the help you need from management you owe it to yourself to move forward.
|Recommended: YesPam is a wonderful help at the office. — The price is good for what you get
|Recommended: YesExcellent Maintenance Response Time — Amazing response time on maintenance issues
|Recommended: YesAwesome and very professional staff — I am very pleased with the area. It is quiet and well kept
|Recommended: YesAbove standards in my personal opinion — I would wholeheartedly tell that individual that living at The Point is a very peaceful, serene, comforting, and fulfilling experience.
|Recommended: YesMaintenance — So far things are looking better but could use more work.
|Recommended: YesIs affordable and overall nice — peaceful, nice neighbors, and the maintenance is spot on to fix issues, very fast response times
|Recommended: YesGood apartment for the price — Fair market price for a good apartment
|Recommended: YesIt's a good place — We were living here for three years, is a good place to live.
|Recommended: YesNeeds work but ok — Size of apartments are great